GENERAL


ALmix DESIGN AND PRODUCTION:The ALmix model 6626 Drum Mixer is of the parallel flow design and includesa special herringbone bolt-in flight design for maximum drying and mixing efficiency, lower stack temperature and reduced fuel consumption. This mixer is designed to produce 70 - 140 TPH depending upon aggregate and moisture characteristics. More specifically, the above plant is guaranteed to produce 120 TPH of 300°F hot mix from material having an initial moisture content of 5%, at not more than 1,500 ft. above sea level.
ALmix DRUM MIXER: The 66" diameter x 26' long drum is constructed from 5/16" thick steel plate. The drum is trunnion driven through four (4) shaft mounted reducers by four (4) 10 H.P. motors. The main frame features unitized construction from heavy, structural steel members with beams supporting the trunnions and drum. Four (4) 12" diameter x 6" face trunnions are machined and heat treated to 500 Brinell and are fitted with 2-15/16" diameter spherical type roller bearings. Each trunnion assembly is mounted on a 1" thick steel plate allowing the assembly to be adjusted as a unit. The trunnions drive two 2" thick steel tires made from one piece forgings. The drum shell is reinforced by 1/4" thick steel bands in the area where the tires are wedged to the shell. Two 12" diameter guide rollers are provided to insure the proper operatingposition of the drum mixer assembly. The drum is mounted at operating slope on the main frame, eliminating the need for costly elevation on setup. Material is discharged from the drum by bolt-on abrasion resistant steel sweeper flights through a side discharge chute. An air seal constructed from high temperature belting is installed between the drum and the discharge breaching.

ALmix SLINGER CONVEYOR: An 18" x 10' long slinger type inlet conveyor driven by a 3 H.P. motor through a shaft mounted gear reducer receives aggregate from the collecting conveyor and conveys it into the drum under the burner assembly. This relatively high speed conveyor eliminates the plugging and heat loss associated with normal inlet chutes.
BURNER ASSEMBLY: The ALmix Model 6626 Drum Mixer employs the Hauck StarJet burner assembly. The burner is capable of burning any grade of fuel oil, natural gas, liquid LP and combustible liquid waste. The burner assembly includes a high efficiency, blower driven by a 40 H.P. motor, automatic temperaturecontrol and flame safeguards. The burner capacity is 40 MBTU/HR. The fuel pump is driven by a 1 H.P. motor.
ALmix POLLUTION CONTROL DEVICE: The pollution control
system includes an expanded discharge breaching on the drum mixer connecting to the baghouse entry plenum. This large area assures fallout of area relatively large asphalt coated particles prior to their entrance into the baghouse. The duct work between the baghouse and the drum mixer is constructed from 3/16" thick steel plate. Duct work connecting the baghouse to the exhaust fan is designed to provide the minimum pressure drop. The Model 231 fabric filter type dust collector is designed to handle 20,000 CFM at an air to cloth ratio of 5.9:1 and operating temperatures of 280-350°F. Bag design is of the double wall type with 231 6" diameter x 7' long bags yielding 3,764 sq. ft. of cloth. The bags are constructed from 14 ounce NOMEX with 13% glass fiber to give better filtration on the sub-micron particle sizes. The surface of the bag is singed prior to manufacture to insure better cake release during the cleaning operation.
The bags and cages are designed for easy top removal through hinged gasketed doors.
ALmix RETURN DUST SYSTEM: The integral bag collector maintains the hopper design universally recognized as the most efficient and economical method of disposing
of collected fines with minimal reentrainment. The baghouse hopper section contains a 9" diameter auger driven by a 3 H.P. motor. The auger delivers the collected dust to a 8" diameter, adjustable tip, rotary vane feeder driven by a 1 H.P. motor and is connected via a blow through adapter and flexible dust handling hose to the drum mixer dust pipe. An in-line blower mounted on the baghouse frame and driven by a 15 H.P. motor is connected to the other side of the blow through adapter to convey the bag house fines to the drum mixer dust pipe.
ALmix EXHAUSTER: The pollution control system includes a high efficiency backward inclined, high efficiency Model 300 exhaust fan with a 60 H.P. motor. The exhausteris supplied with an automatically controlled louvered damper and hinged, ported stack.
ASPHALT BLENDING SYSTEM
ALmix GENERAL: The ALmix Model 6626 Drum Mixer includes the ALmix Millennium Blending Control System. The heart of this control system is an IBM PC compatible computer. The Millennium Control features a fully graphic operator interface to provide complete plant status at-a-glance. Millennium is a Windows based system employing "point and click" technology. The system retains information, system constants and scale calibrations in case of power failure or power off conditions on a hard disk.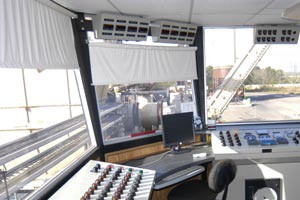 ALmix FORMAT: Included in the system are two 17" VGA full color monitors and a 101 key keyboard. The operator uses the monitor to preset the percent of liquid asphalt desired in mix, percent of reclaimed material desired in mix, percent of liquid asphalt in reclaimed material, percent of mineral filler, percent of liquid additive, separate start and stop delay times for AC injection, liquid asphalt tolerance percent and aggregate moisture compensation setting for each aggregate. The following items will be displayed on the video monitor: aggregate TPH for each aggregate, aggregate total TPH at point of asphalt injection, liquid asphalt TPH, recycle TPH, mineral Filler TPH, liquid additive TPH, total mix TPH, desired % of aggregates, mineral filler, liquid additive, recycle and liquid asphalt, actual % of aggregates, mineral filler, liquid additive, recycle and liquid asphalt, accumulated total tons of each aggregate, accumulated total tons of liquid
asphalt, accumulated total tons of mineral filler, accumulated total tons of recycle, accumulated total tons of liquid additive, accumulated total tons of mix, incline conveyor FPM and liquid asphalt temperature.
BLENDING EQUIPMENT:
The ALmix asphalt pump package consists of a 2" jacketed, positive displacement asphalt pump driven by a 5 H.P. motor through an AC inverter drive. Following the pump assembly is a jacketed, 3-way, air cylinder actuated by-pass valve to pass asphalt to the drum (through the meter) or recirculate the asphalt to the tank. Next is a second jacketed, positive displacement, asphalt pump which is used as a meter to monitor the asphalt flow rate. The accuracy and durability of this second pump complete with optical encoder make it far superior to traditional asphalt flow meters. Temperature compensation is accomplished through the Millennium Control System. The pump and meter assembly is skid mounted for location on the gooseneck of the asphalt storage tank. A center heated flexible line is provided to connect the metering pump package to the drum mixer.
ALmix OPTIONS:
Stationery or Portable Asphalt Plant Design Configurations
2, 3 or 4 bin Cold Feed Systems
Unitized pollution control equipment
Baghouse or Wet Collector
Variety of Asphalt Storage Silos and Slat Conveyors; self-erecting portable units or
stationery units
Portable or Stationery Asphalt Tanks, with indirect or direct fired heating systems
Various optional blending equipment control features including: Automatic feed control, multiple mix design storage, virgin aggregate tolerance alarm and asphalt temperature compensation

---
Serving the Aggregate, Asphalt, Concrete, and Mining Industries
Throughout the Americas, Africa, the Caribbean, the Middle East & the Pacific Rim.
Quality, New, Used and Reconditioned Construction and Mining Equipment
ADM | Advanced | ALmix | CMI | Cedarapids | Deister | Eagle | Fab Tec
Hewitt-Robins | JCI | Lippman-Milwaukee | Nordberg | Pioneer | Telsmith