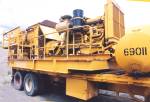 Pugmills
are machines for mixing materials, usually one of them dry and the other a liquid. Pugmills are found in a number of industries aside from road construction. Examples of their applications include mixing hot bituminous asphalt cement in a batch asphalt plant with the heated aggregate, adding lime to asphalt for increased final product strength, or the production of Cement-Treated Base (CTB). CTB is an intimate mixture of aggregate material and/or granular soils combined with measured amounts of portland cement and water that hardens after compaction and curing to form a durable paving material.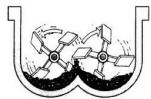 A pugmill consists of a lined mixing chamber with two horizontal shafts on which several paddle shanks, each with two paddle tips, are mounted. The paddle tips are adjustable and fairly easily replaced. The paddle areas are adjusted to ensure there are no "dead areas" in the pugmill. A "dead area" is a location where aggregates can accumulate out of reach of the paddles and not be thoroughly mixed. Dead areas can be avoided by making sure the clearance between the paddle tips and the liner is less than one half of the maximum aggregate size. Non-uniform mixing can occur if the pugmill is overfilled When the plant is operating at full production, the paddle tips should be barely visible at the surface of the material during mixing. If the material is too high, the surface aggregates will tend to "float" above the paddles and will not thoroughly mix. Conversely, in a pugmill containing too little aggregate, the tips of the paddles rake through the material without mixing it. These problems can be avoided by following the manufacturer's pugmill batch rating recommendation. Normally, the rating is based on a percentage of the capacity of the pugmills "live zone." This live zone is the net volume in cubic feet below a line extending across the top are of the inside body shell radius with shafts, liners, paddles, and tips deducted.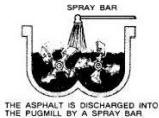 The length of time between the opening of the weigh box gate and the opening of the pugmill discharge gate is referred to as the batch mixing time. The batch mixing time must be long enough to produce an homogeneous mixture of evenly distributed and uniformly coated aggregate particles. If the mixing time is too long, the lengthy exposure of the thin asphalt film to the high-aggregate temperature in the presence of air can affect the asphalt and reduce the durability of the mix. The speed of the mixer shafts and the arrangement and pitch of the paddles are factors governing the efficiency of the mixing. Most job specifications require the use of a timing device to monitor batch mixing time.
---
Serving the Aggregate, Asphalt, Concrete, and Mining Industries
Throughout the Americas, Africa, the Caribbean, the Middle East & the Pacific Rim.
Quality, New, Used and Reconditioned Construction and Mining Equipment
ADM | Advanced | ALmix | CMI | Cedarapids | Deister | Eagle | Fab Tec
Hewitt-Robins | JCI | Lippman-Milwaukee | Nordberg | Pioneer | Telsmith